La notizia è riportata da numerose fonti giapponesi, incluso il sito ufficiale di Young Jump Magazine: il regista Shinsuke Sato, già direttore di Princess Blade, si occuperà di due film live action basati su Gantz.
Protagonista del film prodotto da Takahiro Sato (Death Note, 20th Century Boys) sarà l'attore, modello, doppiatore e membro del gruppo musicale Arashi, Kazunari Ninomiya (voce di Kuro in Tekkonkinkreet e attore in Letters from Iwo Jima), che interpreterà il ruolo di Kei Kurono, mentre la star Ken'ichi Matsuyama (Death Note, Detroit Metal City, Nana, The Legend of Kamui) gli farà da spalla come Masaru Kato. Le sceneggiature saranno opera di Yusuke Watanabe (20th Century Boys – Trilogia, Robo Rock, Bloody Monday, Kami no shizuku, Yasuko to Kenji). I due attori principali si starebbero già sottoponendo a duri allenamenti fisici per sostenere e interpretare le varie sequenze d'azione dei film, il cui primo Ciak sarà chiamato il prossimo mese per una distribuzione nelle sale giapponesi rispettivamente nell'inverno 2011 e nella primavera dello stesso anno.
I due capitoli cinematografici potranno contare su un budget di 4 miliardi di yen (poco più di 30 milioni di euro) e mireranno al grande pubblico. Ciò suggerisce che molta della violenza del manga originale di Hiroya Oku sarà mitigata per raggiungere un più ampio rating. In ogni caso sembra che i live racconteranno una storia completa con un finale originale.
Il popolare horror fantascientifico di Oku, entrato nella sua fase finale dal capitolo pubblicato su Weekly Young Jump 44 di Shueisha (dopo una pausa di circa 3 mesi), è giunto attualmente a 26 volumi, e da luglio del 2000 ha venduto oltre 10 milioni di copie. In Italia il manga è edito da Planet Manga, che ha pubblicato il 24° volume lo scorso giugno.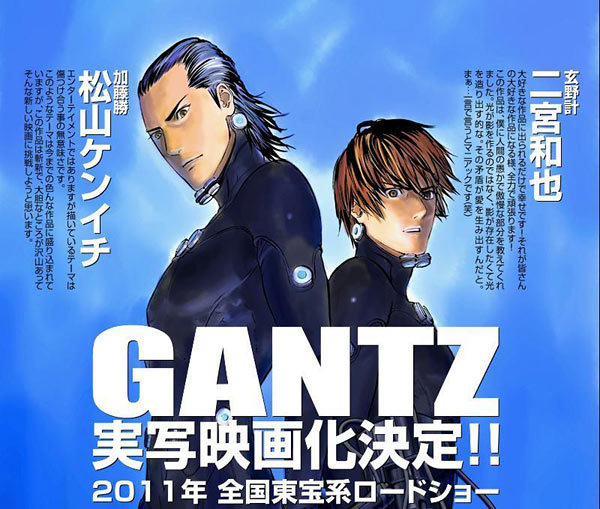 ENGLISH VER.
The news is reported by many Japanese sources, including the official website of Young Jump Magazine: The director Shinsuke Sato, already director of Princess Blade, will focus on two live-action film based on Gantz.
Protagonist of the film produced by Takahiro Sato (Death Note, 20th Century Boys) is an actor, model, voice actor and member of the band Arashi, Ninomiya Kazunari (voice of Kuro in Tekkonkinkreet and actor in Letters from Iwo Jima), who will interpret the role of Kei Kurono, while the star Ken'ichi Matsuyama (Death Note, Detroit Metal City, Nana, The Legend of Kamui) will be Masaru Kato. The scripts will work Yusuke Watanabe (20th Century Boys - Trilogy, Robo Rock, Bloody Monday, Kami no Shizuku, Yasuko to Kenji). The two major players would already be undergoing hard physical training to support and interpret the various action sequences of the film, the first shooting which will be called next month for a Japanese theatrical distribution, respectively, in winter 2011 and spring of the same year.
The two chapters film can count on a budget of 4 billion yen (just over 30 million euros) and will aim for the general public. This suggests that much of the violence of the original manga by Hiroya Oku will be mitigated to reach a broader rating. In any case it seems that the live tell a complete story with an original ending.
The popular sci-fi horror Oku, entered its final phase by Chapter published in Weekly Young Jump 44 of Shueisha (after a pause of about 3 months), it is now currently at 26 volumes, and from July 2000 has sold over 10 million copies. In Italy, the manga is published by Planet Manga, which has published the 24th volume in June.